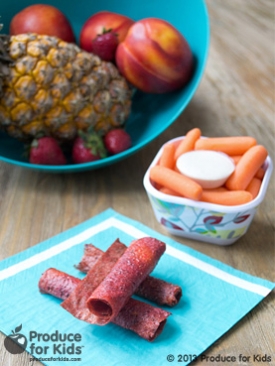 Fruity Fun Roll Ups
2014-05-12 22:47:07
Serves 8
Running to soccer practice and need a quick snack? These make ahead fruit roll-ups are a healthy spin on the store bought fruit roll-ups and a great grab and go option for parents.
Nutrition Facts
Amount Per Serving
* Percent Daily Values are based on a 2,000 calorie diet. Your Daily Values may be higher or lower depending on your calorie needs.
Ingredients
1 cup Summeripe® nectarine (pitted, chopped)
1 cup pineapple (cored, chopped)
2 cups strawberries (chopped)
1 Tbsp.agave nectar
1 tsp. lemon juice
Instructions
1. Preheat oven to 170°F.
2. Blend strawberries, pineapple, peaches, agave nectar and lemon juice in blender until smooth.
3. Spread mixture evenly, 1/8 inch thick, onto parchment-lined baking sheet, and bake 6-8 hours, or until mixture is completely solid and slightly sticky.
4. Remove from oven and let cool. Cut into 8 rows and roll up.
Notes
Suggested Sides: ½ cup baby cut carrots & 1 tsp. Maries® Lite Creamy Ranch dressing
Adapted from Produce for Kids
Mountain View Fruit https://mvfruit.com/